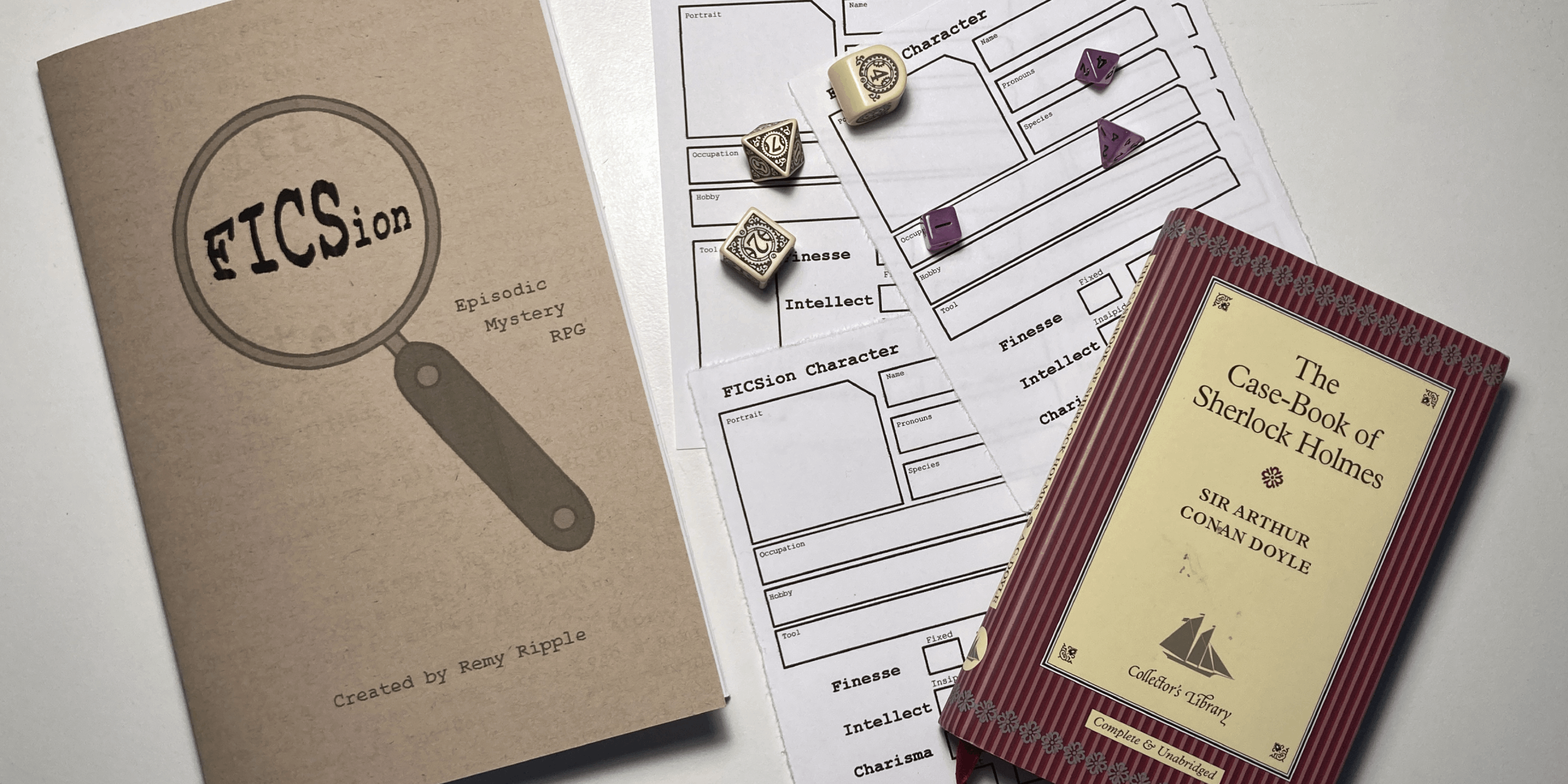 FICSion: Episodic Mystery RPG
FICSion is a narrative-focused, episodic mystery roleplaying game where you build a character to play but use your own deductive skills to solve the mystery. No numbered stats, no skill checks, and no retrofitted mechanics. Take risks and cooperate to solve the case faster or believe in your gut instinct and make your accusations before something drastic happens!

Inspired by Scooby-Doo, Agatha Christine novels, Knives Out, and more, FICSion exists to tell focused mysteries for any setting and any occasion while letting players take control of the investigation and where their interests lead them.
FICSion's entire rolling mechanic is based around the conceit that if players want to effect something about the scene they are presented, they will ALWAYS succeed. The "chance" of the roll then becomes whether what they are doing will incur any consequences or setbacks. Players will never fully "fail" a task, but things might get a lot harder as a result!
To play FICSion you need:

a copy of FICSion core rules
A game master/story narrator who has a mystery story prepared
2-5 players, each with a filled out character sheet
a set of 1d4, 1d6, and 1d8 for each person at the table (including the GM!)
an inquisitive mind ready to solve the case!
Digital copies of the FICSion core rules are pay what you want. Additional materials such as mysteries written, alternative/add-on rulesets, and GM guides as paid content.

Physical copies of FICSion are available on my ko-fi store and can be purchased here!

Check out The Mystery of the Captive Demon, a mystery written specifically for FICSion here!


This work is licensed under a Creative Commons Attribution 4.0 International License.
Download
Click download now to get access to the following files:
FICSion_core_rules_1e.pdf
1 MB
FICSion Character sheet v1.png
12 kB
FICSion Character sheet v2.png
11 kB
FICSion Character sheet 2x2 for print.pdf
34 kB